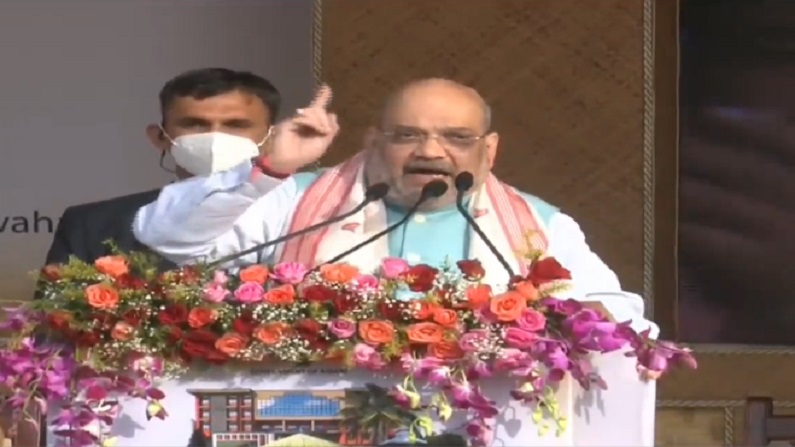 Union Home Minister Amit Shah is on a three-day visit to the Northeast. Home Minister Amit Shah said that by signing the Bodoland Territorial Area Agreement, the Modi government has started the process of establishing peace in Assam (Assam). Shah said that the Bodo youth who had taken up arms have now joined the mainstream. He said that today all those organizations have joined the main flow and today the youth are moving towards making their Ashtalakshmi as Ashtalakshmi of India by competing with the youth from all over the world with their new startups.
Shah said that "the journey of development inside Assam for almost four and a half years has been led by the pair of Sarbananda Sonowal and Hemant Vishwa Sharma here under the leadership of Modi ji, an important stop is today. Modi ji 2013 election campaign I had said that until eastern India develops, India's development is impossible. In 2014, the people of the country made Modi ji the Prime Minister, he has expressed the words of Modi ji.
'At one time the development of Assam was stopped'
Amit Shah said that there was a time of agitations in Assam, there were agitations on different things, hundreds of youth were killed. Assam's peace was disturbed and the development of Assam was halted. During Prime Minister Modi's tenure, he has made a huge contribution to the health services of Assam.
'Amas laid the foundation stone of 11 law colleges'
Amit Shah told that modern super specialty hospital is going to be built for about 15 lakh temporary and 5-10 lakh permanent population in Assam. In Assam, more than 1 lakh Namghars are working to advance the Vaishnavism, our culture, the message of Shankaradeva. Out of them, the work of giving Rs 2.50-2.50 lakh to 8 thousand nameless people is being done today. Today, the foundation stone of 11 law colleges has been laid under the state.
Assam has given CJI to this country as Gogoi Sahab. These law schools will give many such scholars to strengthen our justice system.
.
[ad_2]
[ad_1] Union Home Minister Amit Shah said that "the journey of development inside Assam for almost four and a half years has been carried forward by the pair of Sarbananda Sonowal and Hemant Vishwa Sharma here under the leadership of Modi ji. . "